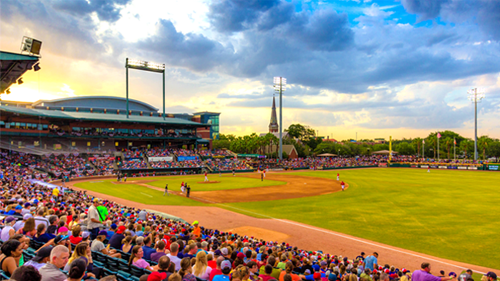 University of Tennessee Alumni, Friends, Fans and Family,
Take me out to the ballgame! Kick back and have some fun with your fellow VOLS as we cheer on the Jacksonville Jumbo Shrimp as they take on the Montgomery Biscuits on Saturday, June 8, 2019.
Event Details
When: Saturday, June 8, 2019
Time: 6:35pm
Location: The Baseball Grounds of Jacksonville
301 A Philip Randolph Blvd.
Jacksonville FL 32202
Cost:$15
Your first drink (soda, wine, beer or craft beer) is included in the ticket price.
Parking is an additional cost not included with the ticket.
Tickets:
We have a block of seats in the 21 Financial Crustacean Corner but we need to have at minimum 25 people attend. Please invite your fellow VOLS and bring your non-VOL friends, we promise to be nice.
You must go online and purchase tickets:
Website: http://tinyurl.com/jaxshrimpportal
Password: JAXVOLS
The general manager and radio broadcaster of the Jumbo Shrimp are HUGE Tennessee Fans so let's show up and support our VFL family. Any questions, please email Jen Hendrich at jenhendrich@pgatourhq.com.