Browsing all articles in Events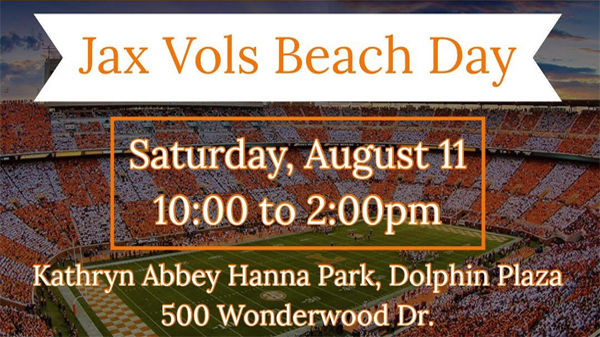 University of Tennessee Alumni, Friends, Fans and Family,
Kick back in the summer sun with the University of Tennessee Alumni Association, Jacksonville Chapter and enjoy food and games on the beach at Hanna Park Saturday, August 11, 2018. Bring your family, friends and Vols fans alike out to meet other Jax Vols who share a common love for all things ORANGE. The UTAA Jax Vols will provide hotdogs on the grill. We encourage folks to bring your own beverages as well as any food you'd like to share with the group (side dish, chips, cookies, etc.). You can even bring your non-VOL friends, we promise to be nice… It's almost football season so time for a little VFL family reunion.
Event Details
When: Saturday, August 11, 2018 from 10am-2pm
Location:
Kathryn Abbey Hanna Park, Dolphin Plaza
500 Wonderwood Dr.
Jacksonville, FL 32233
(look for the orange)
Cost: $5/vehicle entry into Hanna Park
Food/Drinks:
Hotdogs will be served compliments of the Jacksonville Alumni Chapter
Potluck style side items suggested but not required, bring chips, potato salad, dessert etc.
BYOB – Please bring your own drinks as drinks will not be provided by the alumni chapter
Paper products will be provided by the alumni chapter
Stay-tuned: If weather for 8/11/18 looks unfavorable, please check our Facebook page for updates regarding Beach Day plans – https://www.facebook.com/UTAA.Jax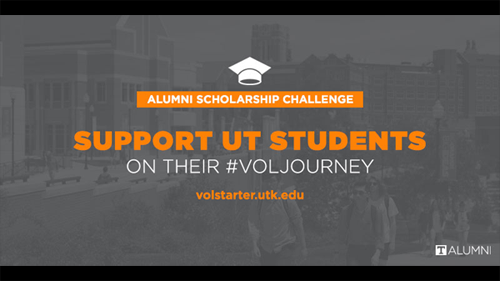 Jacksonville FL Alumni Chapter Scholarship
Help create a new scholarship for Jacksonville area UT students during the 2018 Alumni Scholarship Challenge! Your support of the Jacksonville FL Alumni Chapter Scholarship will impact the life of a current or future UT student from the place you call home.
Your gift during the Alumni Scholarship Challenge could also help your chapter earn additional scholarship money!
NEW SCHOLARSHIPS ONLY: $500 will be awarded to the first group to fully fund a new scholarship this week
$500 will be awarded to the first group to reach its goal this week.
$500 will be awarded to the group with the most donors this week.
Make a gift February 19-23 to support your local alumni chapter scholarship.
Note that donations will only be counted toward the challenge from 12:00AM Monday morning through 11:59PM Friday night.
Support this Scholarship – Click the link below: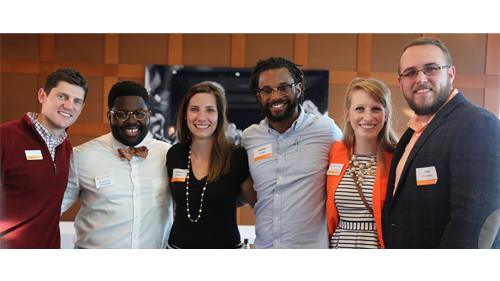 Join the Jacksonville Chapter for a Big Orange Evening meeting fellow Vols and hearing from Associate Vice Chancellor of Development Steve Catlett on the University of Tennessee's journey to become a premier public research university.
Event Details
When? Tuesday, February 6, 2018 / 6–8 pm
Where? TPC Sawgrass (Pub 17) / 110 Championship Way, Ponte Vedra Beach, FL 32082
How much? Complimentary appetizers will be provided. Guests are welcome to purchase beverages from the menu.
Parking? Complimentary valet and self park options are available.
Contact? John Young, Director of Alumni Chapters / jyoung@ufi.org
Can't make it to the Vols game? Join your local Jacksonville Chapter for a basketball viewing party! Get together with your fellow Tennessee fans and cheer the Vols on to victory.
This year we will have 4 basketball games to have watch parties for at Jerry's Sports Grille!
Men – Sunday 12/17/17 @ 3:00pm – North Carolina
Men – Saturday 1/20/18 @ 6:00pm – South Carolina
Lady VOLS – Sunday 1/7/18 @ 12:00pm – Vanderbilt
Lady VOLS – Sunday 1/14/18 @ 1:00pm – South Carolina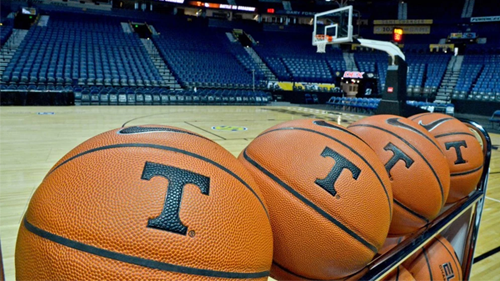 Jerry's Sports Grille is located at 13170-22 Atlantic Boulevard Jacksonville, Florida 32225 – (904) 220-6766.
We begin meeting 1 hour before tipoff. We have several TV's for optimal viewing and viewing of concurrent games of interest. Come out and join us!
Curious what Jerry's Sports Grille has to offer? Check out their menu.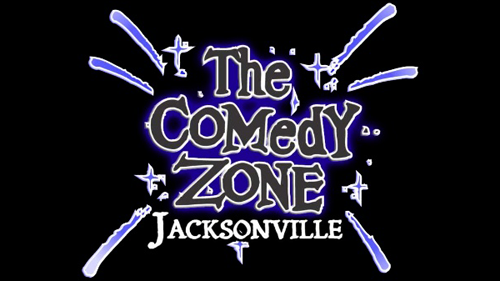 Free admission to see Jay Phillips at The Comedy Zone this Friday, November 3 at 7:30pm! Jay was in the movies Semi-Pro, Baby Mama and his role in the movie Prom Night solidified him as one of the rising stars in the industry. Known for his intelligent humor and presence on stage, his story telling has been compared to the greats.
Event Details
When?
Friday, November 3, 2017 from 7:30pm to 9:00pm
Where?
The Comedy Zone
3130 Hartley Road
Jacksonville, FL 32257
Registration Required – Click the link below.

The Jacksonville, Florida Chapter of the University of Tennessee Alumni Association is open to all former students, friends and family of any of the University of Tennessee campuses.
Recent Posts