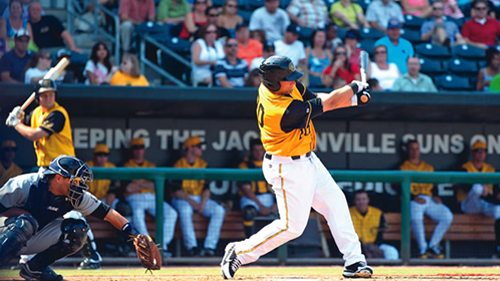 The SEC night with the Jacksonville Suns has officially been cancelled for this evening. We will be working with them on a new date possibly next week. Stay tuned.
Join the Jacksonville, FL UT Alumni Chapter for SEC Night with the Jacksonville Suns.
Event Details
Date: 06/06/13
Food Service: 6:00-7:15 PM
First Pitch: 7:05 PM
Location: The Baseball Grounds of Jacksonville
301 A Philip Randolph Blvd.
Jacksonville FL 32202
The game will be on Thursday, June 6th at 7:05pm. The Suns are setting it up as a group party for any and all SEC Alumni or Booster Clubs here in Jacksonville. The price per person will be $16.95 and include all-you-can-eat hot dogs, hamburgers, popcorn and sodas, with your ticket for a reserved seat. The food service will start at 6:00pm and run until 7:15pm. Also, they will be serving $1 beer that entire night as well.
For more information please contact Jarrod Simmons at JarrodS@jaxsuns.com or call 904-358-2846 ext. 133.